4
Simple steps
to successful implant planning with high-precision drilling templates
REGISTER AND ENJOY THE ADVANTAGES OF SMOP.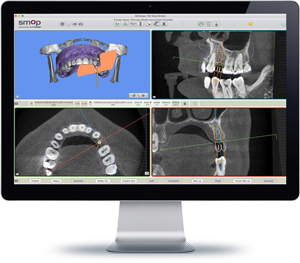 The Implant Planning System provides a lot of features to plan implants within 3D radiologic data (DICOM). The Implant Planning System is specifically designed for dental professionals and dental technicians. Its main purpose is to position implants with respect to the current bone situation, the soft tissue situation, and the prosthetic intention. Click here to see the full SMOP process.
After implant planning is completed, you can order a drilling template from your connected Service Partner, or you can design the drilling template yourself (Template Designer license required). In addition, you can exchange data among dentists, Service Partners, colleagues, and Swissmeda's support team using Swissmeda's easy-to-use sharing concept.
The Implant Planning System is licensed by yearly subscription, which includes updates, server use, and case-specific costs for export of planning data. We offer two types of subscription. Click here to check pricing details.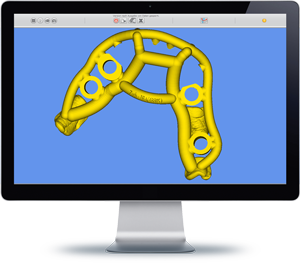 The Template Designer is a Computer-aided design (CAD) plug-in for the Implant Planning System. It was developed to easily design surgical templates based on SMOP implant planning. The Template Designer was conceived to help dental technicians offer design services to their customers (dentists).
When you purchase a Template Designer license, an additional icon appears in the Implant Planning System. Clicking it gives you access to all design features. You can design SMOP drilling templates using the system's simple process. Note: Drilling templates are protected by patents submitted by Swissmeda.
The Template Designer is licensed through yearly subscription. For Service Partners, pay-per-use prices and other conditions are fixed in the contract between the Service Partner and Swissmeda. The Template Designer is also available to individual dental technicians without a Service Partner contract. Individual dental technicians must buy 50 template designs per year in advance; unused designs are not credited to the next subscription year.
Please contact info@swissmeda.com for more information.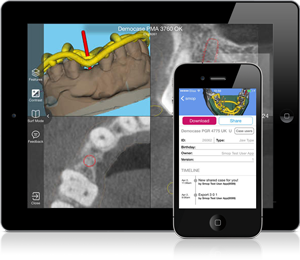 Swissmeda's Mobile App "smop" was designed as a viewer for dentists. Dentists can view their own and colleagues' cases shared with them. With the Mobile App, you can make visual inspections and approve implant planning and template design while out of the office. At present, you can only view cases, but in the near future, additional features will be added, such as correction of implant positions.
The Mobile App can be downloaded from the Apple App Store on iPhone or iPad. It is free for all existing Swissmeda customers who hold a license for the Implant Planning System. If you do not have a valid license, you can still download the app for free. However, you can view only cases shared with you by existing Swissmeda customers who are Independent Users in the Planning System. Each such share requires expenditure of points on the part of the person sharing the data. Click here to check user types and pricing details.
Send Patient Data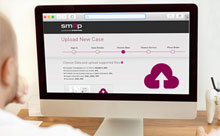 Get Full Service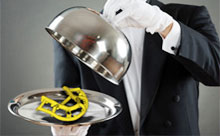 More Happy Patients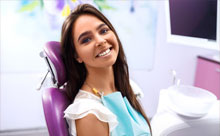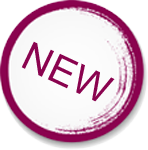 Upload Your Cases via Web
Now you can order full case service on the web in a few simple steps. No software installation is required - everything is done in your browser. Just send us your Cone Beam or Computer Tomography (DICOM) data and the actual intraoral situation via model or digital impression (STL files).
We organize all the planning for you using our products. Our service includes: data preparation, surgical planning containing detailed information about the planned implants, surgical (stent) design, and production and shipment of templates in time for your surgery.
While we carry out the digital planning, you can concentrate on your patients and on growing your business. With SMOP full service, you will need as little as 10 to 15 minutes per patient to review and adapt the implant planning and order the surgical template design. We do everything else for you.
Upload New Case
Extra products
Get more advantages from using SMOP!
Price Plans
Implant Planning System usage costs
(for surgeons, dentists and dental technicians)
The system is tailored to the requirements of dentists and laboratories. There are no setup fees. Annual fees are very low and cover the costs of technical maintenance and basic support. Prices do not include VAT.
PAY PER CASE

Viewer for dentists with full outsourced workflow

For more information please contact your Local Dental Lab or Swissmeda

STANDARD

For dentists to connect with their local Service Partner

read more

For more information please contact your Local Service Provider or Swissmeda

CHAIRSIDE

For dental professionals experienced in the digital workflow

read more

Subscription model starting at 500€ per month for 5 cases per month

Apps

Mobile Viewer (iOS) /
Desktop Viewer (Mac, Win) /
Browser Viewer
Messenger
Implant Planning Program (Mac, Win)

Implant Planning Options

Import and align model and waxup data, plan implants, align jaw arc
Local Service Partner
Export data (surgical plan, 3D data)
Local Service Partner
Local Service Partner
Design surgical guide
Local Service Partner
Local Service Partner

Services

included:
Create Case
Can be ordered per case from your local Service Partner
Do oneself
Matching of the STL and CBCT Scan
Implant Planning
Template Design
Printing and shipping
Optional

Additional

Cloud data storage
Local Service Partner
4 GB (incl)
+ 5GB: 75 € per year
4 GB (incl)
+ 5GB: 75 € per year